Steve Harvey: Dont Trip…He Aint Through With Me Yet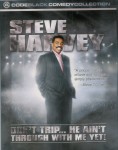 Synopsis
"A unique mixture of love and laughter…Simply Phenomenal" says Bishop T.D. Jakes. Steve Harvey's hilarious comedy show brought down a sold out Atlanta's Phillips Arena at T.D. Jakes "Mega Fest", the annual four-day evangelical event which draws tens of thousands of his fans every year. With a clever range of side-splitting new material Harvey performs one of his funniest and most memorable performances in front of church folks. That's right; Mr. Harvey keeps it clean and family friendly!
Dove Review
Steve Harvey does all he can to prove to the audience that "He ain't through with me yet" as he tells jokes and performs his comedy routine to a large Christian audience. At times, he comes right up to the edge of being a bit racy but pulls himself back in line by quoting the above phrase over and over again.
All in all, this is the cleanest comedy act that I have ever seen him perform and I must say that he is funny. There is a very moving monologue at the end of the film where Steve introduces Jesus as he would if he were a major celebrity performer but this is very tasteful and powerful. We are pleased to award the Dove Seal to this film for ages 12 and over due to some of the more adult situations addressed.