Limitless
Theatrical Release:
March 18, 2011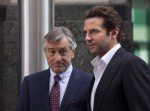 Synopsis
Bradley Cooper and Robert De Niro star in "Limitless," an action-thriller about a writer who takes an experimental drug that allows him to use 100 percent of his mind. As one man evolves into the perfect version of himself, forces more corrupt than he can imagine mark him for assassination.
Dove Review
Things are not going well for Eddie (Bradley Cooper). His book deal has fallen through and the hard-luck writer's girlfriend has broken up with him. When he takes a pill which only costs $800 a shot, his mind is able to use one hundred percent of its capabilities and he begins to write at a whirlwind pace as well as make some rewarding stock market decisions. But pay day comes later when Eddie begins suffering side effects and must continue to take the pills in order to prove to some important people that he is a man wiser than others.
Despite some good acting chops by the leads, Bradley Cooper, Robert De Niro and Abbie Cornish, and the film promoting intellectual stimulation, and the thought of using more of one's brain, the movie has some strong violent moments including the graphic scene of a man with a bullet wound in his head. It also contains strong language and sex outside of marriage and so regrettably we cannot recommend it for family viewing.
Info
Writer:
Leslie Dixon & Alan Glynn
Reviewer:
Edwin L. Carpenter