Sucker Punch
Theatrical Release:
March 25, 2011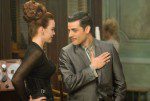 Synopsis
A young girl is institutionalized by her wicked stepfather. Retreating to an alternative reality as a coping strategy, she envisions a plan which will help her escape from the facility.
Dove Review
Baby Doll (Emily Browning) is framed by her stepfather for her sister's murder and winds up in an insane asylum. The stepfather is beyond angry for being left out of his deceased wife's will. Baby Doll goes into a fantasy world in the mental health facility, which is kind of a gothic mental health center. She imagines fighting dragons, robots and zombies. This movie seems to be set in the sixties. In addition, she deals with some other girls in the center with names like Sweet Pea and Rocket as she tries to move forward in her life.
It is not as violent as some pictures I have seen, but it has enough scary and bloody moments that it hits a three in our rating, which places it outside of Dove's "family friendly" category. And so does the language and it hits a level four rating. Therefore, we cannot award our Dove Seal to this movie. Why not take the family to see "Mars Needs Moms"? It is a movie well worth seeing.
Info
Writer:
Zack Snyder & Steve Shibuya
Reviewer:
Edwin L. Carpenter