Kids Under Construction (Vols. 1-4)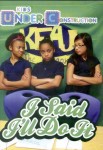 Synopsis
Show 1: Deja Has a Big Mouth
Five year-old Deja gets on everyone's nerves because she tattles all the time. The kids nick-named her "Big Mouth" and it hurts her feelings. When she overhears two older kids planning to fight her friend she is confused as whether to tell or not because she doesn't want to be a big mouth
Show 2: Rumors Hurt
Louise likes being the leader, always in control and telling everyone what to do. When her best friend Margaret meets a new friend Kelsey, Louise feels threatened and makes up a rumor about Kelsey. Margaret, seeing how much Kelsey is being hurt by the rumor tells Louise to stop and apologize. It's not until Louise's secrets are about to be exposed that she finally apologizes.
Show 3: I Said I'll Do It!
Louise has an important job to do. She is the producer of TASP-TV. Her show goes into production in a day and she has no script. When her back is up against the wall she gets angry and frustrated, causing the production team and cast to be at odds with her. Plus to add to her headaches her chores at home go undone causing her to lose her allowance.
Show 4: Don't Hurt Me
Joey is a fifth grader who finds pleasure in picking on a first grader. Dre' is confused about how to handle his menace. His father tells him to fight and protect himself, while his mother who is also a teacher at this school advises him to walk away. Dre' finally finds relief when he decides to let him Mom handle the bully.
Dove Review
"Kids Under Construction" is a cool series produced by kids for kids. That said the viewer should know that the production values here are not as important as the lessons learned. Each episode has its own unique spin on the struggles faced by elementary school students in many classrooms today. Issues such as tattling, bullying and gossiping are all dealt with in cool ways.
Prominent in each show is a question and answer session after each skit that parents and/or teachers will find helpful in reaching out to their students or kids. Cool music and fast-paced dialog are also prevalent in the DVDs which will ensure that the kids pay attention and retain what they have learned. Dove is pleased to award this fun and instructional DVD series our "Family-Approved" Seal for all ages.
Info
Company:
TASP Productions