Madeas Big Happy Family, Tyler Perrys
Theatrical Release:
April 22, 2011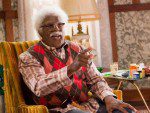 Synopsis
When Madea's niece, Shirley, receives distressing news about her health, all she wants is to gather her three adult children around her and share the news as a family. But Tammy, Kimberly and Byron are too distracted by their own problems: Tammy can't manage her unruly children or her broken marriage; Kimberly is gripped with anger and takes it out on her husband; and Byron, after spending two years in jail, is under pressure to deal drugs again. It's up to Madea, with the help of the equally rambunctious Aunt Bam, to gather the clan together and make things right the only way she knows how: with a lot of tough love, laughter — and the revelation of a long-buried family secret.
Dove Review
I get the good intentions Tyler Perry has with this film. Madea's niece, Shirley, learns she has a serious health issue and does everything within her power to bring her family together for dinner. The problem is the disrespect that is shown to her and between her daughters and their husbands who constantly fight. Madea steps in with her mouth and the back of her hand to straighten Shirley's grown kids and their kids right up. Perry is all about "respect" in this movie. The problem with his approach is the strong language that is literally in about every scene of the movie including a "J" though the way it is spoken might have been intended as a prayer or a cry for help. But you name it: the "D" word, the "H" word, The "A" word, and more are uttered so often that I finally quit counting after about an hour. It ranks at least a four out of five on our content scale. Also, although it is handled for laughs and is obviously physical comedy, Madea slaps a kid and some others around and in anger drives through a drive-thru's walls! Finally, a character in the movie smokes marijuana and talks about getting her "dime bags".
Madea admittedly doesn't know the Bible very well and says the scripture mentioning that the redeemed of the Lord should say so means to knock the "H" out of your kids and tell them "So!" Biblically that's not quite accurate.
At any rate, due to some frank sexual comments (and a scene in which an older woman grabs a younger man's rear) and the strong language and drug category, we cannot award our Dove Seal to this film. Tyler Perry's movies a few years ago just missed receiving our Dove Seal but, it's sad to say, the last couple haven't even come close. I am sure he means well but we wish he would use a more wholesome approach in telling his stories.
Info
Reviewer:
Edwin L. Carpenter