Beware of Christians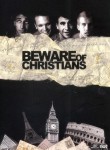 Synopsis
What does it mean to call one's self a Christian? And what do people in other parts of the world think about Christians? Alex, Matt, Michael, and Will believe God exists. These young men are raised in an affluent, Bible believing bubble in Texas, however, they begin to suspect that their checklist Christianity may be a convenient support of their worldly biases. A better perspective requires distance, they reason. And they travel to Europe to question strangers and, more important, to more seriously ask themselves: Is the Jesus in the Bible the same person as the healthy, wealthy American Jesus they've so long believed in?
Their travels feature ten European cities including Barcelona, Rome, Vienna, and Munich. Beginning in London, they narrate from a roundtable in a studio city by city, tackling topics such as materialism, sexuality, alcohol, and entertainment. As the journey progresses, they build a deep bond with each other and discover a new meaning for the words, "trusting in Jesus." By the end of their adventure, they truly begin to understand the joy and redemption that comes from giving up the world to follow Jesus.
Dove Review
This documentary takes the viewer on the road in several European cities to discuss how Christians live out their faith in other countries. The four college students that are followed do a good job in showing how believers are thought of in typically non-Christian countries. Each one admits struggles in living out their own faith as they try to determine how Jesus would want us to live our lives.
I was impressed with the faith of the young men in this film. Their youth and inexperience is shown in a realistic manner and with the pranks the youths play on each other. However, this documentary is a revealing exposition on how fundamental beliefs of what a Christian should do or not do differs around the world. This will be an eye-opening watch for youth groups around our country. Subjects covered include materialism, sex & relationships, wealth & poverty as well as alcohol use by teens. Dove recommends this film for ages 12 and over due to the mature subject manner.
Info
Company:
Riot Studios, LLC
Industry Rating:
Not Rated