The Hangover Part 2
Theatrical Release:
May 26, 2011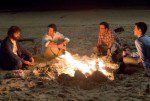 Synopsis
In the follow-up to the record-breaking hit comedy "The Hangover," Phil (Bradley Cooper), Stu (Ed Helms), Alan (Zach Galifianakis) and Doug (Justin Bartha) travel to exotic Thailand for Stu's wedding. After the unforgettable bachelor party in Las Vegas, Stu is taking no chances and has opted for a safe, subdued pre-wedding brunch. However, things don't always go as planned. What happens in Vegas may stay in Vegas, but what happens in Bangkok can't even be imagined.
Dove Review
Well, the Thailand scenery is nice. However, it is difficult for me to name one redeeming quality about this film. It is pretty much a swim in hedonism for 102 minutes as several buddies prepare for a wedding. Due to the sex and language, drugs and nudity categories, we are unable to recommend this film for family viewing.
Why not check out "Thor" or "Kung Fu Panda 2" this weekend? Both have received our Dove "Family-Approved" Seal.
Info
Writer:
Craig Mazin & Scot Armstrong
Reviewer:
Edwin L. Carpenter