Gandhi at the Bat
DVD Release:
January 1, 2006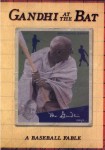 Synopsis
For decades, historians have searched for evidence of Mahatma Gandhi's top-secret trip to the United States in 1933. At President Roosevelt's request, all contemporary accounts were suppressed and no records have ever been found — until film historians unearthed this never-before-seen newsreel footage of Gandhi's legendary (and totally fictional) visit to Yankee Stadium.
Dove Review
It is very telling that Mental Slapstick is the name of the company behind this comedic spoof. I must admit to being amused as a robe-clad Gandhi trotted up to bat at Yankee Stadium while wearing his famous white robes. This is a spoof all the way. And pretty nicely done. The video appears to be old film footage and in one of the special features we see the before and after of filming, the color film and how the same footage appears in black and white after it is made to look old and scratched. This short film is based on a supposed newsreel of a top-secret trip to the United States by Gandhi in 1933.
The spoof uses the name Mohanda K Gandhi instead of Mahatma Gandhi. This brief film does a nice job in spoofing this fictitious event and the viewer gets to see actors portraying Babe Ruth and Lou Gehrig, Lefty Grove and others as well. We happily award this funny DVD our Dove "Family-Approved" Seal for all ages, although the older kids and adults are the ones who will truly appreciate it.
Info
Company:
Mental Slapstick LLC
Writer:
Stephanie Argy & Alec Boehm, based on a short story by Chet Williamson
Director:
Stephanie Argy & Alec Boehm
Producer:
Stephanie Argy & Alec Boehm
Reviewer:
Edwin L. Carpenter