Bad Teacher
Theatrical Release:
June 24, 2011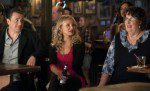 Synopsis
Some teachers just don't give an F. For example, there's Elizabeth (Cameron Diaz). She's foul-mouthed, ruthless, and inappropriate. She drinks, she gets high, and she can't wait to marry her meal ticket and get out of her bogus day job. When she's dumped by her fiance, she sets her plan in motion to win over a rich, handsome substitute (Justin Timberlake) — competing for his affections with an overly energetic colleague, Amy (Lucy Punch). When Elizabeth also finds herself fighting off the advances of a sarcastic, irreverent gym teacher (Jason Segel), the consequences of her wild and outrageous schemes give her students, her coworkers, and even herself an education like no other.
Dove Review
Before the movie started at the screening I went to, two young ladies walked in together and one commented to the other, "My parents are amused that teachers were going to go see 'Bad Teacher'". I didn't learn what their response was to the movie, but I know ours at The Dove Foundation, and it is not a good one. I did like the opening sequence which featured archive footage. The viewer is shown classrooms, teachers and students, the cafeteria and playgrounds from the fifties, sixties and seventies. It's always interesting to compare the styles of then to the styles of now. The footage even features the Three Stooges in caps and gowns! However, as far as content is concerned…well, I will get to that.
The premise of the movie is that Elizabeth Halsey (Cameron Diaz) is kicked out by her boyfriend (and his mother) after spending $16,000 in one month and apparently only being interested in his money. She also doesn't realize it is his birthday. She just received a gift card for $37 from the faculty at the middle school where she worked as a going away present to her but now she will have to return for the fall and teach again. She meets a substitute teacher named Scott Delacorte (Justin Timberlake) and is interested in him and she decides to get her breasts enlarged. However, another teacher, Amy Squirrel (Lucy Punch), sets him on her radar and the competition is on.
As far as humor, there are a few good moments. In one scene the gym teacher, who is interested in Elizabeth, tells her "Those banners there weren't here when I arrived. Yeah, they were on the other side and I moved them!" Despite a few other funny moments in the movie, there are content issues in five out of our six categories! There are explicit sexual comments and a scene in which a couple basically makes love with their clothes on. The language is strong and frequent. Marijuana is smoked and there is a "Weed is awesome!" comment. There are a few other drug use comments. A woman's bare breasts are seen on screen as is partial rear nudity of a man. And there are breasts exposed in a few magazines as well. This, along with the way Elizabeth treats her students (she tells one girl she is "hopeless"), prevents us from awarding our Dove Seal to the movie as a family-friendly film. Elizabeth becomes a Guidance Counselor at the end. Hopefully they are not setting us up for a sequel. You are allowed to go to recess instead of seeing this movie.
Info
Company:
Columbia Tri-Star Pictures
Writer:
Gene Stupnitsky & Lee Eisenberg
Reviewer:
Edwin L. Carpenter