Horrible Bosses
Theatrical Release:
July 8, 2011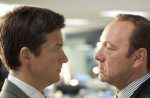 Synopsis
For Nick (Jason Bateman), Kurt (Jason Sudeikis) and Dale (Charlie Day), the only thing that would make the daily grind more tolerable would be to grind their intolerable bosses (Kevin Spacey, Colin Farrell, Jennifer Aniston) into dust. Quitting is not an option, so, with the benefit of a few-too-many drinks and some dubious advice from a hustling ex-con (Jamie Foxx), the three friends devise a convoluted and seemingly foolproof plan to rid themselves of their respective employers…permanently. There's only one problem: even the best laid plans are only as foolproof as the brains behind them.
Dove Review
Three guys, Nick (Jason Bateman), Kurt (Jason Sudeikis) and Dale (Charlie Day), are guys who want revenge against their despicable bosses whom they can't stand. Nick has not won a promotion in eight years, and then to make matters worse his boss, Dave (Kevin Spacey), gives himself a promotion! Dale's boss, played by Jennifer Aniston, sexually harasses him even though he is love with someone else, a girl named Stacy (Lindsay Sloane). Kurt is a manager at a chemicals company and when well-liked boss Jack Pellit (Donald Sutherland) dies, his nephew Bobby (Colin Farrell), who is irreverent and a cocaine addict, takes over.
There are a few laughs and likable actors, and the film hits on the realities of the recent recession, which is fine, as well as the topic of reverse sexual harassment, but it also features these three former high-school friends deciding to hire a hit man to kill their various bosses. On top of this, there are a lot of sexual innuendos and the plot which involves Dale's boss continually attempting to seduce him. The various content issues in this film which includes well over a hundred profanities, in addition to the cocaine use, prevents us from awarding our Dove Seal to the movie as a family-friendly film.
Info
Writer:
Michael Markowitz & John Francis
Reviewer:
Edwin L. Carpenter