A Voice for Life
DVD Release:
June 1, 2011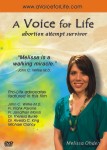 Synopsis
In 1977, Melissa Ohden survived a saline induced abortion procedure and miraculously suffered no physical or mental damage. She returned to the hospital where the abortion attempt was made in 2008 and gave birth to her daughter, Olivia. Melissa is now a wife and mother who shares her story around the world and is having a positive impact on the lives of those who have been touched by abortion. She presents a message of hope, healing and forgiveness. Pro-Life advocates featured in this film are John C. Willke M.D., Frank Pavone, Fr. Jonathan Morris, Dr. Theresa Burke, Dr. Alveda C. King and Michael Clancy.
Dove Review
This is a DVD which you cannot watch without feeling some kind of emotion, be it sympathy for what the narrator, Melissa Ohden, went through, or anger, or even regret. Melissa is one of the rarest human beings around. She survived an abortion. This is a powerful DVD which features Melissa's own story in her own words, and a host of other contributors to her story including her adoptive mother and medical experts such as John C. Wilke, M.D., Dr. Theresa Burke and religious leaders such as Fr. Frank Pavone.
There is a scene which reveals the photo of an unborn child as surgery is performed and the baby grabs the surgeon's hand with his little fingers. It is a touching scene and at the same time the photo shows some blood as the surgeon opened the mother's womb to operate. It is brief but the viewer should be aware it is there. This is an appropriate DVD for ages twelve plus and some parents may feel their mature children a few years younger might receive an important lesson on the value of life by watching the DVD.
Women share their emotions from post-abortions and reflect guilt but the value of a life lesson learned. The viewer of this DVD will marvel at God's grace as Melissa Ohden reflects forgiveness and her belief that God spared her for a purpose. That purpose seems miraculous and unmistakable. She is an embodiment of the precious gift of life. The fact she has no mental or physical defects is a miracle in addition to her survival. We highly recommend this inspirational and remarkable DVD and gladly award it our Dove "Family-Approved" Seal in addition to five Doves, our highest level.
Info
Industry Rating:
Not Rated
Starring:
Host: Melissa Ohden
Reviewer:
Edwin L. Carpenter