Crazy, Stupid, Love
Theatrical Release:
July 29, 2011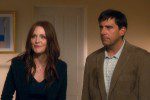 Synopsis
At forty-something, straight-laced Cal Weaver (Steve Carell) is living the dream–good job, nice house, great kids and marriage to his high school sweetheart. But when Cal learns that his wife, Emily (Julianne Moore), has cheated on him and wants a divorce, his "perfect" life quickly unravels. Worse, in today's single world, Cal, who hasn't dated in decades, stands out as the epitome of un-smooth. Now spending his free evenings sulking alone at a local bar, the hapless Cal is taken on as wingman and protege to handsome, thirty-something player Jacob Palmer (Ryan Gosling). In an effort to help Cal get over his wife and start living his life, Jacob opens Cal's eyes to the many options before him: flirty women, manly drinks and a sense of style that can't be found at Supercuts or The Gap.
Dove Review
It's too bad this movie wanders away from the family-friendly umbrella. Steve Carell can certainly be a funny guy. At one point in the film he has learned his wife has had an affair and one of his co-workers checks on him and learns what has happened. "Oh, good, we were worried," he says. "When I heard you crying in the bathroom I thought you had the big C (cancer) or something like that." "Oh no," replies Carell with impeccable timing and a touch of sarcasm, "my relationship has just fallen apart, that's all!"
Unfortunately the morals in the movie break down too. The film basically portrays the idea that if your wife leaves you, the best way to get her respect is to have sex with several women in a row. I wonder how many women would agree with that. Certainly this movie caters to men and is more a "guy film" than a "chick flick." One thing it is not, due to its frank sexual comments and innuendos and strong language, and that is it is NOT a family-friendly movie and does not earn our Dove Seal. Steve, why not try making another family-friendly film the next time like "Dan in Real Life"?
Info
Director:
Glenn Ficarra & John Requa
Reviewer:
Edwin L. Carpenter