Cowboys and Aliens
Theatrical Release:
July 29, 2011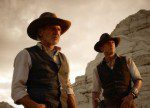 Synopsis
"1873: The Arizona Territory. A stranger (Craig) with no memory of his past stumbles into the hard desert town of Absolution. The only hint to his history is a mysterious shackle that encircles one wrist. What he discovers is that the people of Absolution don't welcome strangers, and nobody makes a move on its streets unless ordered to do so by the iron-fisted Colonel Dolarhyde (Ford). It's a town that lives in fear.
But Absolution is about to experience fear it can scarcely comprehend as the desolate city is attacked by marauders from the sky. Screaming down with breathtaking velocity and blinding lights to abduct the helpless one by one, these monsters challenge everything the residents have ever known.
Now, the stranger they rejected is their only hope for salvation. As this gunslinger slowly starts to remember who he is and where he's been, he realizes he holds a secret that could give the town a fighting chance against the alien force. With the help of the elusive traveler Ella (Olivia Wilde), he pulls together a posse comprised of former opponents-townsfolk, Dolarhyde and his boys, outlaws and Apache warriors-all in danger of annihilation. United against a common enemy, they will prepare for an epic showdown for survival."
Dove Review
I must admit to being wrong about my trepidations about this movie's plot. I was concerned it might come across as a totally preposterous plot. The truth is, the movie is very entertaining and what I am frustrated about is the strong language and the fact the violence level hits a level three in our content rating, meaning we can't recommend it for family viewing. It is intense and very violent in spots. A lot of people are shot or stabbed and blood is sprayed in a few scenes and mortal flesh wounds also are seen from time to time. However, the story keeps the human element in it; for instance, a main character's son is kidnapped by the aliens as are others, literally yanked away by a cable device attached to a flying alien craft. All this and the mystery surrounding Jake Lonergan (Daniel Craig) and the alien band attached to his wrist and his loss of memory make for an entertaining tale. Just what happened to him and how were the aliens involved? And are the people who were kidnapped by the aliens still alive or now dead?
The film is to be commended for dealing with race issues. An Indian man defends Colonel Woodrow Dolarhyde (Harrison Ford) to his people as having been "a great warrior". Later this same Indian man is mortally wounded and the Colonel cradles him in his arms, telling him he is like the son he always longed for, due to his integriy which is unlike the Colonel's biological son. Lonergan has flashes of memory of his wife who died and in the movie meets a young woman named Ella (Olivia Wilde). He could fall for her but there is more to Ella than meets the eye. The mixing of the super special effects along with the human elements in the story makes for an interesting movie experience. Ford is terrific as always as the gruff Colonel Dolarhyde and Craig plays the stoic Lonergan with intensity. It is a nice pairing of these two famous actors.
It's too bad we can't recommend this film for family viewing. The view of the canyon as the film opens is terrific and the cinematography and acting and direction is tight. And the film does explain why the aliens showed up in the first place. However, it wanders out of the family-friendly arena and therefore we are unable to award the movie our Dove "Family-Approved" Seal.
Info
Company:
Universal Pictures
Writer:
Roberto Orci & Alex Kurtzman
Reviewer:
Edwin L. Carpenter