Search for The Ark of the Covenant: The Mystery of the Ark of the Covenant
DVD Release:
October 27, 2008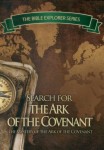 Synopsis
The fate of the lost Ark of the Covenant is perhaps the greatest historical mystery of all time. In Search for the Ark of the Covenant, Bob Cornuke, a biblical investigator and real-life Indiana Jones, scours the globe in hopes of discovering this famed biblical relic. With footage from Israel, Egypt, Ethiopia, and Italy, this documentary reveals startling new information about the exact location of the ark and includes photographic evidence never before seen by the world.
The first DVD in The Bible Explorer Series invites you to join Cornuke on adventures in the Holy Land, sacred islands, and ancient stone cities, using the Bible as a road map for uncovering ancient mysteries. Be amazed as this series helps support God's Word with modern archaeological evidence. The series also includes Search for Noah's Ark and Search for Mt. Sinai, or get all three in The Bible Explorer Series: Three DVD Set.
Dove Review
How appropriate that John Rhys-Davies narrates this documentary about the Ark of the Covenant, considering he played "Sallah" in "Raiders of the Lost Ark". Hearing his booming voice is like listening to an old friend. The documentary is quite well done as the various possible locations of the famous Ark are considered. Bob Cornuke, a former police detective and research expert, follows various trails which ultimately lead him to the most likely resting spot of the Ark in Ethiopia. Cornuke also has searched for Noah's Ark and the real location of Mt. Sinai.
Graham Hancock, author of "The Sign and the Seal" is featured as well and he shares various traditions and histories of the ark. The documentary reveals artistic renderings of the ark and comments from various people who have inside information on the history and location of the ark. Is it located in St. Mary's of Zion Church? The viewer will have to decide for himself/herself but this is a fascinating DVD which families everywhere will enjoy. The search for the ark just may be over!