The Pledge
DVD Release:
August 19, 2011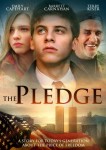 Synopsis
Tory Hedderman is a typical, self-centered 16-year-old. His motto: If it doesn't have to do with him, why should he care? However, when Tory is caught vandalizing a statue of a WWI Vet, he is ordered to perform community service at a local veteran's home where he comes face to face with those who teach him about the sacrifices that have been made for our country. "The Pledge" is an uplifting family drama that features footage of real-life vets sharing thoughts on patriotism, freedom and the attitudes of today's generation towards the true price of freedom.
Dove Review
The Dove Foundation had received the manuscript for this film many months before it became a movie. I was impressed with it and could picture the story in my mind's eye as I read it. I am pleased to say that this movie turned out as good as or even better than I had imagined it. How often is the movie as good as the book or, in this case, the manuscript?
This is a wholesome yet dramatic and powerful film. The story opens with young Tory Hedderman dealing with anger issues. He is very un-patriotic and his parents are pacifists, which sometimes clashes with the mainstream thinking. Tory wants to one day become a director of historical films and hopes his will rival the past work of De Mille, Cameron, Spielberg and Stone. Tory becomes angrier when his family moves from New York to West Virginia. He is amazed to learn that many places close by five p.m. and even the local theater isn't open on Sundays. He comes across a young man who throws an egg at the statue of the American Doughboy, a representation of the spirit of World War l, and the boy flees as a police officer shows up. The officer doesn't see the fleeing boy, only Tory, and so Tory winds up in deep water and is disciplined. He has to pay a $300 fine and do fifty hours of community service at the Mountain State Veteran's Home. The judge is quite beside himself when he says, "My father fought in that war (World War l). That was like throwing an egg at my father!"
The plot thickens and the drama increases as Tory faces persecution for not standing for the Pledge of Allegiance in class, and when a man named Joe at the Vet's home gets on his case about his lack of patriotism. But when Tory meets a beautiful young lady named Jill who wears clothing saluting the flag and sings for the vets, his life begins to change. He learns about a tragic loss Jill suffered and he meets a young vet named Mitch who, for the first time, opens up to both Jill and him after a bit of prodding. Tory also begins to remember what he was doing during 9/11 and why he had blocked those moments from his mind.
This movie has what every good movie needs, very good acting, especially from the leads, Barrett Carnahan as Tory and Emily Capehart as Jill Courtney. Carnahan handles the range the character goes from in the beginning to the change in his character by film's end extremely well and the talented Capehart is a delight as she can both sing and act and she helps hold the story together. In addition, Michael Guy Allen as Mitch Kern and Terry Kiser as Joe are two others who give outstanding performances. Claudia Esposito is also extremely good as the director of the home, Annie Townsell.
The movie deals with very dramatic issues such as death, grief, patriotism, and the need to grow as people and to stand for what one believes. I love the humor too such as when an innocent Jill and Tory are called "Donny and Marie" by Mitch and she replies, "No, it's Jill and Tory!" The picture also includes prayers offered to the Lord. It comes full circle as Tory is given the opportunity to make an historical film which can save the vet's home. We are very happy to award our Dove "Family-Approved" Seal to "The Pledge" and we believe it will inspire many people who see it and remind them that truly all things are possible to he who believes. Although there are a couple of intense scenes with a character becoming angry with another one, they are brief and we believe this film is suitable for all ages but parents should consult our content listing below to make their own informed decisions.
Info
Company:
Bridgestone Multimedia Group
Industry Rating:
Not Rated
Reviewer:
Edwin L. Carpenter