Rite of Passage (Book)
Book Release:
August 1, 2011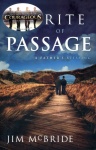 Synopsis
When does your child become an adult? And how does a father call out the man or woman in his growing children?
In an era of aging pre-adults and wandering "adult-olescents," Jim McBride gives parents a practical tool to help launch their children into their own lives with purpose.
Drawing from the rites of passage he went through for each of his own kids, this executive producer of "Fireproof" and "Courageous" explains how we can equip our children to want to grow up — not when the video game's over, or "someday" — but at an appointed place and time. Dads, moms, and other mentoring adults have the unique opportunity to guide young people toward adulthood.
This guidebook includes ideas and practical examples for planning your own family rites of passage.
Dove Review
Here is a much-needed and powerful book on parenting, titled "Rite of Passage". It is written by the executive pastor of Sherwood Baptist Church in Albany, Georgia, Jim McBride. Jim opens up the book by sharing his past including his training as a Marine, his time as an executive for the Coca-Cola company, and now his current leadership position with Sherwood. He has seen the need for young men and women to have a "rite of passage" for, as he writes, adulthood should not be randomly reached but planned and then recognized. He believes each family should have a unique rite of passage for their son and daughter, based on their individual uniqueness as a family.
In this brief book, 143 pages long, he writes about developing a rite of passage and then shares how each one for his four children was a bit different. He writes about Buddy, Tommy, Victoria and Sarah, and the uniqueness of each rite of passage. An interesting example is given on page 67 in the book when he writes of his family's Scottish background, and how he incorporated this into Buddy's rite of passage. He mentioned William Wallace and the film "Braveheart", and he even used a sword as part of Buddy's ceremony. He engraved Buddy's name and the date on the sword. This is a perfect example of making a rite of passage ceremony unique for your own son or daughter. Buddy's ceremony was capped off with the men who attended surrounding him and praying for him.
In contrast, Jim brought in Tommy's football coach for Tommy's rite of passage and the focus was a bit different but still lined up with the idea of a rite of passage. McBride writes about planning a rite of passage for your family on page 107 in the book, and he reminds parents to remember their child's influences. On page 87 he writes about his daughter Victoria and how her great Aunt Harriett spoke to her about being a woman of integrity. As Jim writes, young women face difficult realities as much as young men do and need to share in this rite of passage as well.
This book is grounded in the Bible, and features several biblcial examples and texts. To me, after reading it, I believe Rev. McBride focuses on letting our children know they are and will be loved. This is the ultimate way to send them off into adulthood. He makes it clear by the end of the book it is never too late to plan the rite of passage. McBride has written a compelling book with a master plan which could and probably will be life-changing for your children who are now young adults. We are more than pleased to recommend this solid and remarkable book and we gladly award it our Dove "Family-Approved" Seal.
Info
Company:
Moody Publishers
Reviewer:
Edwin L. Carpenter