Courageous Living (Book)
Book Release:
September 1, 2011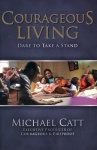 Synopsis
Catch a fresh wind of bravery through the bold biblical accounts of Abraham, Joshua, Ruth, and many others in "Courageous Living" by Michael Catt, pastor and executive producer of the unforgettable film "Courageous."
In the movie, four police officers are focused and confident when it comes to facing danger on the job. But leading their families at home in a God-honoring way? That takes courage.
Because we are called to take a faithful, fearless stand in all that matters, Catt sheds new light on the stories of people in the Bible who displayed great courage when it would have been easier to play it safe. They challenge and inspire us now to keep moving forward, to examine our priorities, and to deal with anything that brings fear to our hearts.
Dove Review
This book says a lot by giving meat in its short length. There is no fat to be trimmed in this one! This is a relatively quick read by Michael Catt, one hundred and fifty pages, and yet this biblical book on courageous living is profound in its simplicity. Catt writes in a way which most people will relate to. As the reader reads why we need to read this, and the examples Catt gives to the everyday need for courage, the reader will think something like, "Of course. This makes perfect sense and I can relate to this."
The book features an introduction, then ten chapters followed by an epiologue. During the space of 150 pages Catt writes about using courage to get going, courage to choose and refuse, courage to lead on all levels, courage to be a humble hero, courage to face an uncertain future, looking for Millenials with courage, courage to make up your mind, courage to face criticism, courage to stir up the fire, and finally courage to face persecution.
An example of Catt's focus is given in the chapter on Millenials and how he likes to challenge the present generation and how that his previous challenges have resulted in former students contacting him via e-mail, or letter, to tell him how he has influenced their lives. He was not, as he writes, a cookies and Kool-Aid minister. He wasn't there to babysit but to challenge the youth to do something which would make a difference in their lives and in the lives of others.
This devotional and inspirational book is filled with biblical teaching and texts, and various examples of showing courage in the face of trouble. He deals with marital and job conflicts, making good decisions, setting up a good future as much as possible but leaving the results to God. In the epilogue he mentions Christ as his inspiration and writes on page 145, "He gives me courage instead of fear." He shares biblical inspiration regarding Moses, Joshua, and other great men of faith. He mentions the torture Richard Wurmbrand went through for his faith, and the stoning of Stephen who was courageous for the Lord. In one neat example, he shares how his own daughter Erin tried out for a small part in the movie "Fireproof" and wound up landing a major role in the film. She had to give up her job at Disney but later on was blessed with a better job at Disney! Her courage was rewarded.
Catt also writes about women of God, including the story of Ruth. This is most definitely a wholesome yet possibly life-altering book, and we gladly award it our Dove "Family-Approved" Seal for all ages. Show "courage" and read it soon and you most likely will find the courage you already have growing! As Catt quotes Billy Graham from page 83, "courage is contagious!"
Info
Reviewer:
Edwin L. Carpenter