Back to the Land (story 1)
DVD Release:
September 12, 2011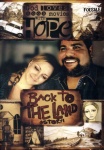 Synopsis
Sam and Sarah lose their big house and good jobs. They leave for the Land of Enchantment out West. See how they take off their masks and find out what is underneath. Put yourself in the story. What would you do now? Oh, God. You're going to really need Him.
Dove Review
This is a play which was partly filmed in a church setting. A couple named Sam and Sarah lose their jobs and their nice big house. They leave the big city for "The Land of Enchantment" out west. They wind up living in a tee-pee and though a bit battle-scarred, they learn that living off the land and relying on God has its perks!
The story features some songs, one about debt and being mortgaged to death! In a nice analogy they compare money stacked like cards which came crashing down. Sarah states it is a true story and in this drama we see the hardships of life plainly illustrated, such as the couple arguing and Sarah's frustration with the quietness and the heat of their new surroundings. "I just want my TV and my Starbucks" she proclaims. She doesn't want to be in New Mexico.
However, things improve as they persevere. The couple shares excitement in the news that Sarah is going to have a baby. This film features a great rendition of "Amazing Grace" as well as a fine sermon about the house built on the rock, and we gladly recommend it for all ages. The very young may not grasp the deeper meanings of the film and it is a bit intense for young children due to a nightmare kind of scene but overall, this change-of-pace film speaks about being creative in times of lack and many viewers will glean from its practical lessons.
Info
Company:
Land of Enchantment, LLC
Industry Rating:
Not Rated
Reviewer:
Edwin L. Carpenter