Whats Your Number?
Theatrical Release:
September 30, 2011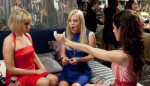 Synopsis
Anna Faris plays Ally in this edgy romantic comedy about a woman who reads a magazine article claiming that "women who have had 20 or more partners in their lifetime have a good chance of staying single for life." After counting the men in her own life, Ally begins to lose hope of every getting married. Vowing not to exceed her current number, she enlists the help of her handsome neighbor (Chris Evans) and becomes obsessed with tracking down her old boyfriends to see if she may have missed "the one".
Dove Review
This example of a scene I watched in this film will tell you what it is basically about. Ally (Anna Faris) is speaking to a male friend, who tells her that more sex will convince a guy she is interested in that she is the marrying kind. The sexual jokes literally flood this movie. Of course, the title itself, "What's Your Number", refers to the number of sexual partners one has had. One positive thing about this film is that Ally realizes in the end she is happiest when she is herself (in one scene she fakes a British accent to impress a British man she likes). Eventually she is accepted by a young man who loves her for who she is.
Most disturbing in the film is the use of the "F" bomb in front of children who repeat the word in the movie and then giggle later when they repeat it again. I don't think many parents would appreciate this example. This is obviously not a family-friendly film and we can't place our Dove Seal on this one. Why not check out "Courageous" with your family this weekend, or "Dolphin Tale"? Both of these films are excellent family entertainment and solid choices.
Content Description
Sex: Implied sex outside of marriage; frank and graphic sexual comments and innuendos throughout the entire movie; sexual slang; characters talk about the number of sexual partners they have had; a woman at her wedding reception announces she is four months pregnant.
Info
Company:
20th Century Fox
Writer:
Gabrielle Allan & Jennifer Crittenden
Reviewer:
Edwin L. Carpenter