The Ides of March
Theatrical Release:
October 7, 2011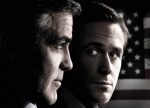 Synopsis
The Ides of March takes place during the frantic last days before a heavily contested Ohio presidential primary, when an up-and-coming campaign press secretary (Ryan Gosling) finds himself involved in a political scandal that threatens to upend his candidate's shot at the presidency. Also starring George Clooney, Paul Giamatti and Philip Seymour Hoffman
Dove Review
This star-driven movie features an interesting story line about Governor Mike Morris (George Clooney) who is a strong candidate for the next President of the U.S. In his corner are Stephen Myers (Ryan Gosling), his press secretary, as well as Philip Seymour Hoffman who plays his campaign manager. Added to this mix is Paul Giamatti as Morris' challenger's campaign manager. With all these stars involved, you know you are going to get some interesting characters along with nuanced performances which propel the movie forward.
Gosling plays an idealistic young man who fights doggedly for his beliefs and his candidate. However, it isn't long before the politics get dirty and Myers finds himself questioning the loyalties he has held. His chance to get even opens up in a painful way but he's ready to move forward to let those who let him down know he has learned his political lessons well.
The content of this film is, sad to say, very strong. There are over 65 uses of the F word. It is rattled off as if the more the characters say it, the more money they will get paid for each utterance. What really frustrated me was the use of the F bomb in between the names "Jesus" and "Christ". There are some of us who reverence that name and rebel at it being used in such a way. There is also an issue of sex and abortion in the film, placing this one outside of the family-friendly arena. We cannot award our Dove Seal to this movie.
Info
Company:
Columbia Tri-Star Pictures
Writer:
George Clooney & Grant Heslov
Reviewer:
Edwin L. Carpenter