Families of the World (27 DVD Series)
DVD Release:
January 1, 2010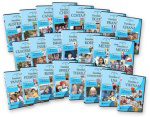 Synopsis
"Families of the World" takes you on a fantastic journey to another country where you view the unique lives of two children and their families. Each DVD focuses on a different culture, their way of life, family interaction, foods and even celebrations. Join us in our visit to the countryside, cities, communities, schools and homes of two families – from breakfast to bedtime and all the fun-filled activities in between.
Families of the World Series includes: Australia, Brazil, Canada, China, Costa Rica, Egypt, France, Ghana, India, Israel, Japan, Korea, Mexico, Puerto Rico, Russia, Sweden, Thailand, United Kingdom, USA, and Vietnam.
Dove Review
Here is an intriguing series that will display the different cultures of 27 countries in the world today. From the eyes of children in the age group of 6-7 years of age, they narrate the happenings of their typical day from the time they get up until they go to bed at night. This is truly an educational and fun family series.
You will learn of the everyday lives in these many countries and they may or may not be much different than the area you live in. Whether it is getting ready for school in Sweden or celebrating a birthday in Egypt, this series will take the viewer on an adventure that will broaden the knowledge of family routines from other countries. Take your family or classroom on a trip around the world. We are proud to award this series the Dove "Family-Approved" Seal for all ages.