Tonya Larson: Power Stretch and Sculpt
DVD Release:
January 2, 2012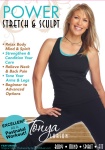 Synopsis
Stretching is an excellent way for exercisers of all fitness levels to relieve stress and back pain, strengthen and condition abdominals, lengthen muscles, increase circulation and improve posture and flexibility. Fitness expert, Tonya Larson, created Power Stretch & Sculpt to flow seamlessly from meditative and relaxing stretching into more challenging strengthening and sculpting exercises. This 47-minute workout requires no equipment other than a mat. Power Stretch & Sculpt can be done in its entirety or exercisers have the option to choose each segment individually from the DVD Menu.
1. Opening Stretch & Warm-Up
2. Sculpting Stretch
3. Deep Stretch
4. Abs & Core Focus
5. Relaxation Stretch
BONUS: An optional Spiritual Warm-Up including Scripture meditation and prayer.
Dove Review
Tonya Larson's DVD's instruct the viewer of many exercises programs. This DVD shows the way to help your body through a series of stretching exercises to sculpt your body into a healthier you. With her easy- to-follow leadership, the viewer will enjoy the easy relaxing work-out as they participate in this life- changing activity.
We award this DVD the Dove "Family-Approved" Seal for all ages.