A Very Harold & Kumar 3D Christmas
Theatrical Release:
November 4, 2011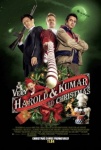 Synopsis
The new "Harold & Kumar" comedy picks up six years after the duo's last adventure.
After years of growing apart, Harold Lee (John Cho) and Kumar Patel (Kal Penn) have replaced each other with new friends and are preparing for their respective Yuletide celebrations. But when a mysterious package mistakenly arrives at Kumar's door on Christmas Eve, his attempt to redirect it to Harold's house ends with the "high grade" contents—and Harold's father-in-law's prize Christmas tree— going up in smoke. With his in-laws out of the house for the day, Harold decides to cover his tracks, rather than come clean. Reluctantly embarking on another ill-advised journey with Kumar through New York City, their search for the perfect replacement tree almost blows Christmas Eve sky high.
Dove Review
Effective January 1st, 2009, The Dove Foundation Review Team has ceased reviewing all NC-17 rated movies and certain extraordinarily explicit R-rated films. This decision was reached due to the fact that Dove reviewers are parents or grandparents with conservative values. As such, we feel that we can no longer expose these dedicated and caring people to movies that contain distasteful and appalling stories that are focused on graphic horror and violence, and/or gratuitous depictions of explicit sex and nudity. "A Very Harold & Kumar 3D Christmas" is considered to be such a film. Our report is therefore limited to the business information (title, rating, distributor, producer, director, actors, etc), synopsis, and the content chart.
Info
Writer:
Jon Hurwitz & Hayden Schlossberg
Reviewer:
Edwin L. Carpenter