Our House (3 DVD Collection)
DVD Release:
August 30, 2011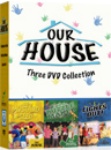 Synopsis
Make yourself at home at Our House! Starring a family of four contemporary Christian performers who share their passion for God, family, and music, these heartwarming episodes from Higher Ground Family Ministries invite children to sing, dance, create, and learn about God with their family and neighborhood friends.
First, explore how faith grows like a mustard seed, see a cool science experiment, and act out the story of Noah in The Mustard Seed. Next, learn how life is like a puzzle that shapes us into the people God wants us to be in The Puzzle Maker. Then, craft a candle and take an illuminating journey to a dark time when Jesus showed the disciples the way in Lights Out! Each episode is also available individually from Bridgestone Multimedia Group.
Dove Review
The "Our House" collection is comprised of three high energy DVDs featuring Mr. & Mrs. G, their two daughters and an assortment of neighborhood children. Each film features lively music, dance, creativity, imagination and Bible stories. Mr. G. loves science and brings an element of wonder and curiosity as God's miraculous creation is explored through hands-on experiments and interesting research.
Themes of family fun, trust, faith, and adventure abound throughout the set. Children will be drawn to engage in bringing bible stories to life with drama and song just as the "Our House" gang does! They will learn faith is better when not hidden and being kind is a wonderful way to let the light of Jesus shine. Tiny faith is able to grow strong and mighty when watered by God and even the difficult pieces of our life can turn into something good when we look for God's hand in our lives.
Families will enjoy this delightful set of DVDs, Dove approved for viewers of all ages.