New Years Eve
Theatrical Release:
December 9, 2011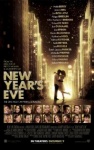 Synopsis
Director/producer Garry Marshall is joined by a stellar ensemble cast to ring in the 2011 holiday season with the romantic comedy "New Year's Eve."
"New Year's Eve" celebrates love, hope, forgiveness, second chances and fresh starts, with intertwining stories told amidst the pulse and promise of New York City on the most dazzling night of the year.
Dove Review
Director Gary Marshall has managed to get some human stories of compassion into the films he has directed over the years. He does the same in this one but the beginning of the film is like dealing with a runaway GPS that is sending the driver (in this case, viewer) all over the place for a time. There are several small stories that he manages to connect by film's end but in the beginning it is a bit disconcerting to try to keep up with the mini plots.
Speaking of the plot, it is centered on New York City and the upcoming New Year's Eve, 2012. Hilary Swank plays a supervisor named Claire Morgan and it is her job to make sure the ball falls on time in Times Square for the New Year celebration. She has to be somewhere important just after midnight and this story ties in with other stories, and many of them have little surprises attached to them. In another sub-plot Sarah Jessica Parker plays a mother named Kim who has to search for her daughter Hailey (Abigail Breslin) who insists on going out to meet her boyfriend despite her mother's orders to stay in her room. In another mini plot Robert DeNiro plays hospital-bound Stan Harris, and he is dying from cancer and it is his last wish to go to the hospital roof to see the ball drop. He has alienated his family members and only good-hearted nurse Amy (Halle Berry) sits with him as the hour approaches. However, one of the movie's nice little surprises takes place.
Michelle Pfeiffer plays Ingrid, a woman who quits her job as she has had it with her boss who takes her for granted. Zac Efron plays a courier named Paul who helps her complete a wish list for the day, and he does so in creative ways so that her unfulfilled goals might be realized. Katherine Heigl plays Laura, who crosses paths with her ex-fiance Jensen (Jon Bon Jovi) who got cold feet after proposing and left her. He is sorry for what he did but she is colder than the weather and it will take something special to win her over. Ashton Kutcher plays a man who is bored with life until he becomes accidentally stuck in the elevator with his pretty neighbor. There are several cameos in this movie including Ryan Seacrest, Penny Marshall, and many more.
As Swank's character Claire makes a speech about second chances and forgiving people while she and thousands wait for the dropping ball to be repaired, the main themes of Marshall's movie are clearly seen. Unfortunately, strong language and a few too many sexual innuendos doom this one from receiving our Dove "Family-Approved" Seal.
Content Description
Violence:
A man is in an accident and hits a street sign and the air bags go off; a few characters have tense moments as they argue.
Sex:
Several characters kiss; sexual innuendos; a comment about using sex for a couple to make up; innuendo about a man's testicle; a man says he plays the piano and a woman interested in him says she just plays; a man says he is just fooling around with music and a woman says she just likes fooling around; a man stares briefly at a woman's rear; a sexual comment that "I can tap this"; during a woman having labor pains her husband tries to speak to the baby and she tells him to not yell at her vagina.
Language:
G/OMG-1; F-1 (Another one is almost uttered); PO-1; S-1 (And the utterance of "sh"); A-4; H-4; Crap-1; D-2; Slang for having sex-2; Bi*ch-1; Slang for female genitalia-4; Slang for testicles-1
Violence:
A man is in an accident and hits a street sign and the air bags go off; a few characters have tense moments as they argue.
Nudity:
A teen girl lifts her blouse to show she is not wearing a training bra but a "regular" one; strong cleavage in a few scenes; shirtless men.
Info
Reviewer:
Edwin L. Carpenter