Watch and Talk Volume 1
DVD Release:
March 10, 2012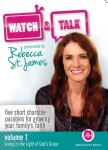 Synopsis
Watch & Talk is an easy and exciting way to engage your family in devotions that are fun, open-ended, and biblically based.
1. The Clock: Explore how Jesus leads with grace, but follows it with truth.
2. Young Prodigal: Discuss a new twist on an all-time favorite parable of Jesus
3. The Jesus Egg: A lighthearted look at Easter egg hunts, and acting like Jesus
4. The Fair Employer: A modern version of Jesus' parable where the last are first, and the first are last.
5. The Two Debtors: A fresh retelling of Jesus' parable where he who is forgiven much, loves much too.
It's just so simple! Just…
A. Watch the short film (10 minutes or less).
B. Read the short scripture suggestion.
C. Dive into a few simple questions that are designed to help your family discover what God may be trying to say to you today.
Dove Review
Rebecca St. James hosts this fantastic DVD with five modern parables each, illustrating biblical truths. This can be utilized as a powerful teaching tool in a Sunday school or Christian education setting. The family will enjoy these modern presentations of Bible stories as well.
The five lessons featured on the disc are presented as follows: 1. The Clock 2. Young Prodigal 3. The Jesus Egg 4. The Fair Employer 5. The Two Debtors
A few examples of the stories include the lesson of grace which is taught in "The Clock" when a young boy drops a clock which was in his care, and it breaks. A passage from John 1:14-17 is used and host Rebecca St. James encourages a discussion of the parable and scripture passage. in "Young Prodigal" young Troy takes his mother's money and goes to a carnival and spends money on his friends. Soon it rains and Troy finds his bike has been messed up. He has to walk home only to find the door locked and Mom not home. He realizes how he needs his parent. The point is made that the Prodigal Son headed home and was met with grace when his father ran to greet him.
All the rest of the parables are nicely done as the ones mentioned and have the capacity to reach a modern audience, especially a younger audience. We highly recommend this DVD and we joyfully award it our Dove "Family-Approved" Seal. Watch and talk over the stories in this DVD with your family.
Info
Company:
Bridgestone Multimedia Group
Industry Rating:
Not Rated
Reviewer:
Edwin L. Carpenter