Billy Tuccis A Child is Born (Illustrated)
Book Release:
April 12, 2012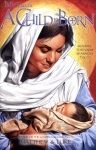 Synopsis
Eisner Award nominee Billy Tucci faithfully depicts the Christmas story as never seen before in Billy Tucci's A Child is Born. Adapted from the Gospels of Matthew and Luke, and painstakingly researched with Nativity scholars, Tucci's beautiful artwork brings forth a stunning rendition of the events surrounding the birth of Jesus Christ. Digitally painted by Paul Mounts and lettered by Bill Tortolini, A Child is Born is a wonderful Christmas tradition to be shared with friends and family for years to come.
Dove Review
This graphic novel, is awesome and can be used as a powerful teaching tool. The illustrations are amazing and the story is based on the biblical account of the Nativity and does not stray. This style of story telling really is an engaging instrument to use while teaching kids and young teens.
This is a good contemporary way to reach kids who love "comic books" and yet this story is one is based on the birth of the Savior. We can't recommend this one enough. The story features the angel's announcement to Mary and the pregnancy of her cousin Elizabeth with John the Baptist. It features the journey to Bethlehem and the birth of Jesus. The reader also will read about Simeon and Anna and how they saw the messiah before their deaths. The visit of the Wise Men as well as Joseph and Mary fleeing to Egypt with the young child are also featured within the richly illustrated book. We award five Doves to this terrific story book.
Info
Reviewer:
Edwin L. Carpenter