How to Stand for your Marriage (Book)
Book Release:
December 11, 2011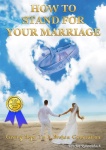 Synopsis
"Stand For Your Marriage"
reminds people of God's intention for
marriage. Marriage vows are a promise "until
death do we part." Scripture teaches us "what
God has joined together let no man put
asunder." So why has marriage become
disposable? It certainly isn't the will of God
and if it isn't of God it must be the will of
Satan. Ess-Jee Rautenbach stands firm on
God's purpose and offers hope for floundering
marriages. All marriages go through rocky
periods. However, that does not mean we are
released from our vows, responsibilities or
commitments. Divorce does not hurt only the
husband and wife but their children,
grandchildren, parents, siblings, and friends.
Rautenbach reminds us that we have a great
authority to turn to when our marriage falls
apart. Instead we turn to friends, family and
the therapist for their advice and comfort.
Dove Review
This 144-page book can be a life-changing reading experience for many couples who need to work through marital problems. The advice given by author Ess-Jee Rautenbach is based on scripture and what God has to say concerning marriage. Although the book does deal with various issues such as sex outside of marriage in a straight forward fashion, it does so with class, sharing possible consequences and outcomes of bad decisions and poor judgment. It is not a book for kids but for those who are contemplating marriage or have already married.
One of the strengths of this book is its emphasis on the spiritual, not becoming hard hearted but remaining open to God's will through seeking Him. The book relies heavily on scripture and focuses on one's spiritual needs being met; in fact the book states that a man can meet some of a woman's emotional needs but some were meant to be met by God (Page 32). Psalms 31 is quoted and in it we read about the virtuous or noble woman. A few examples of pledges are included in the book and a place for notes.
Chapter four deals exclusively with the issue of divorce and it seems appropriate that one entire chapter and other portions in the book should deal with what has become a major occurrence in this country, speaking of the frequency and ease in getting divorced. Page 53 speaks of the effects of divorce on children. The truth that marriage is a DAILY commitment is featured in this book. The term "resurrected marriage" is used on page 77 and that is the author's theme for those who believe the marriage is dead; God can resurrect a dead marriage! This book speaks of the "mind-set" needed for a successful marriage and the need to stand for the marriage to endure and make it. Some may feel "rejected" but many will choose to stand and endure.
Ultimately, we see the author's aim is for the partners in the marriage to realize that Jesus is the solution to their marriage. The marriage should consist of a trio and not a couple! The author of this book is clearly in favor of marriages working out and this becomes apparent in reading this book. We are most pleased to award this book our Dove "Family-Approved" Seal for ages twelve plus. This book is a tool. Use it if you need it or pass it on to someone else who does!
Content Description
Sex:
Sex outside of marriage and its consequences including STD's are mentioned; it's mentioned some men's sexual needs are not met in marriage and neither are a woman's emotional needs; the book encourages men to stand against porn so that their marriages will succeed; the example of the unfaithful Gomer is given and how her husband stood by her and she eventually came back to him.
Info
Company:
Stand for your Marriage
Reviewer:
Edwin L. Carpenter