Battleship
Theatrical Release:
May 18, 2012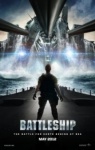 Synopsis
Peter Berg (Hancock) produces and directs Battleship, an epic-scaled action-adventure that unfolds across the seas, in the skies and over land as our planet fights for survival against a superior force. Inspired by Hasbro's classic naval combat game, Battleship stars Taylor Kitsch as Lt. Alex Hopper, a Naval officer assigned to the USS John Paul Jones; Brooklyn Decker as Sam Shane, a physical therapist and Hopper's fiancee; Alexander Skarsgard as Hopper's older brother, Stone, Commanding Officer of the USS Sampson; Rihanna as Petty Officer Raikes, Hopper's crewmate and a weapons specialist on the USS John Paul Jones; and international superstar Liam Neeson as Hopper and Stone's superior (and Sam's father), Admiral Shane.
Dove Review
"Battleship" has some good moments but, if you will pardon the expression, it is a bit overblown. It is inspired by the Hasbro game, a naval strategy game, and it's an alien-invasion movie. In some ways it is a bit more interesting than the "Transformers" films but one could hardly compare it to anything as deep or entertaining as "Star Trek" or "Star Wars".
Naval brothers Alex Hopper (Taylor Kitsch, who plays a temperamental lieutenant) and Stone Hopper (Alexander Skarsgard) find themselves smack in the middle of an extraterrestrial assault. However, the violence and onslaught of the aliens is part of the problem with this movie as far as it being a family-friendly film. The violence hits a level three in our content rating, with some blood and a lot of violence, not to mention the strong language, which for us essentially sinks this Battleship.
Info
Company:
Universal Pictures
Writer:
Erich Hoeber & Jon Hoeber
Reviewer:
Edwin L. Carpenter