Closer to God: Jessicas Journey
DVD Release:
September 4, 2012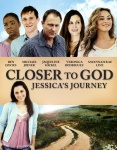 Synopsis
A Mother struggles to keep things under control as her daughter dies of cancer, her estranged father suddenly returns, and her faith in God is put to the test.
Dove Review
This story will move you…guaranteed. This cast is wonderful and the movie features an outstanding performance by Savannah Rae Linz as a dying teenager named Jessica Donaldson. She has cancer and just wants to live life before she dies but her loving mother, Rose (Jaqueline Hickel), is overprotective and is finding it more than hard to let go. Jaqueline Hickel, like Savannah, gives a terrific performance. Also in fine form is Bill Suplee as Rose's dad, Kelly Doyle, who wound up in prison when she was a child and comes back into her life. He wants forgiveness and to be a part of her and his grandkids life but Rose finds it difficult to forgive him. When Grandpa helps Jessica live a little bit, like teaching her how to drive, Rose becomes unglued.
Yet it is Grandpa and Jessica who teach Rose that life must be lived before one can peacefully face death. When Rose learns it is her dying daughter's wish to attend her prom, she becomes determined to find a way to make it happen. This one is a bit of a tearjerker due to the moving performances by the actors and the tender story which is told. The director, Jenn Page, knocks it out of the park with how she tells this warm and touching story. In one unforgettable scene Jessica is making a video and says that her doctor told her that her cancer is a level 3, which is the highest. "I'm an overachiever" she jokes, and then she cries. We are more than glad to award this terrific movie five Doves, our highest rating. Due to the sophisticated themes regarding death, we are recommending it for ages twelve plus although some parents will be fine with their children ten and up watching it. This film features themes of forgiveness and giving God the reins when life doesn't make sense. This one will hit home to everyone who has ever lost someone close. It's one that should be seen.
Info
Company:
Core Faith Media
Reviewer:
Edwin L. Carpenter