Golden Winter
DVD Release:
September 25, 2012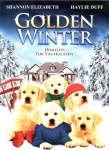 Synopsis
A boy befriends a litter of homeless Golden Retrievers. Together, they help stop a bank robbery just in time for Christmas.
Dove Review
This heartwarming story features a mother Golden Retriever and her five puppies which your family will enjoy. The puppies are Rory, Jumper, Tinkle, Snoozer and Scarf. This is one which can be enjoyed at the holidays or anytime, especially if you are a dog lover. The movie features humorous moments such as when the puppies play a "silence" game to see how long they can go without saying something and none of them last long.
Young Oliver has busy parents who work all the time. His dad always misses his soccer games and Mom is always headed out the door for her job in real estate. When Oliver discovers some abandoned puppies (the parents of the house left the home owing money) he can't bring himself to sell them as his friends ask. His friends have just accepted him into their gang but Oliver falls for the puppies and is determined to help them track down their mother. She was taken by an animal shelter and she longs to be reunited with her brood. When Oliver lets his parents know he wants the mother Golden Retriever for Christmas because he can at least spend time with her and her puppies, they begin to realize just how busy they have been. A thief gets the gang involved in plans for a bank heist at Christmas and it looks like Oliver might be the only one who can save the day.
This Christmas movie is recommended for its themes of the importance of family spending time together and fighting for a good cause.
Info
Industry Rating:
Not Rated
Reviewer:
Edwin L. Carpenter