Hang On To Jesus! Adventures: Amazing God! (Illustrated)
Theatrical Release:
October 1, 2012
Book Release:
October 1, 2012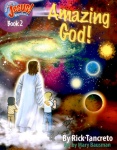 Synopsis
Hang On to Jesus! Adventures bring Bible truths to life for young readers. Children will discover God's character and kingdom through selected passages of Scripture and wondrous journeys with Jesus. Invaluable as part of an educational program, this series also includes teaching tools found on our website: www.LittleSaintsPress.com. Hang On to Jesus! Adventures will help children live out and defend their faith, as well as fall in love with their savior.
The nature of God is revealed to Dee Dee and Ricky when Jesus takes them on an adventure that begins before time began. Join them as they discover God and how amazing He is!
Dove Review
"Amazing God" is book 2 in the "Hang on to Jesus! Adventures" series, that takes Dee and her brother Ricky on an adventure with Jesus. In this wonderful illustrated book, the trio travel back to see God's creation of the stars, galaxies and the universe. Jesus talks to the children about how God created everything and helps them to understand His love for us. Each set of pages includes a verse from the Bible that confirms what Jesus is telling the children about God's work.
This is a fantastic story that encourages everyone about the amazing things that God has made for us. But also a great book for the entire family that not only explains God's creations, love and faith for us but also helps children understand in an exciting fun adventure. We are proud to award the Dove "Family-Approved" Seal for all ages to this story book.