The Spaniel Familys Thanksgiving (Illustrated)
Book Release:
August 26, 2012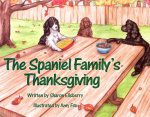 Synopsis
The Spaniel family has prepared a special meal for Thanksgiving. They have set their table with many of their neighbor's favorite foods. Come join Maggie, Joe, Daisy, and their friends as they celebrate the season and reasons to be thankful.
Dove Review
This is a charming story book about a family of Cocker Spaniels as they prepare to have Thanksgiving dinner with their friends. Maggie, Joe and Daisy are from the Cocker Spaniel breed of dogs, each with a different colored coat. The trio goes shopping for food for their many different friends such as a skunk, a variety of birds, a cat, the rabbit family, a raccoon and even an Iguana. The menu is set for all to enjoy the feast.
Also included in "The Spaniel Family's Thanksgiving" book are interesting facts about the famous song, "Over the River and Through the Woods", in addition to the history of how Thanksgiving became a national holiday. This colorfully illustrated book will be enjoyed for generations. We are proud to award this book the Dove "Family Approved" Seal for all ages.
Info
Company:
EEI Publications