Rogue Saints
DVD Release:
October 16, 2012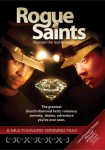 Synopsis
When childhood friends Nick and Dylan run our of money, they remember the story of a huge diamond buried under a church and plot to dig it up without getting thrown in jail. To disguise their efforts, they volunteer for work at the church, but something about the church and its people begin to affect them. The roller coaster of drama, comedy, adventure, and romance that ensues leads to the discovery of a whole different kind of treasure.
As Nick and Dylan bumble their way through their plans, they find that the people they're trying to dupe are just what they've needed: quirky, chaotic, and imperfect, but loving and lovable … the family they've been looking for.
The film powerfully reveals that when a church functions as God's community, it can change the lonely world around it. It's a celebration of His family as it touches the human need for relationship. His plan does not end with salvation; He's made a way for us to grow in Him as we grow in relation with others.
Dove Review
This film shows that the Lord can move into our life situations if we allow him to.
The movie is about two best friends who hear about a rich woman who attended church and they learn at her passing that there was a diamond as big as a fist buried under the baptismal tank of a church. The two decide to try to find it as they both are poor.
The young men stereotype Christians and try to avoid them. They later realize the people of the church are really kind and they experience God's love through the people. Eventually the young men make a fateful decision.
We are awarding our Dove Seal to this movie for all ages, but want to note the very young may find it slow moving. For those a bit older this realistic story offers themes of change, hope, and the power Christ can make available to a life surrendered to him.
Info
Producer:
Adam Lubanski and Dave Brunk
Industry Rating:
Not Rated
Starring:
John Wu
,
Jason Pead
,
Deanna Sarkar
,
Paul Eenhoorn
,
Bruce Weech
,
Sharron Bonea
,
Janet Heitter
,
Alex Craig
,
Justice Liu
,
Gavin Michaels
,
Thomas Stewart
,
Devin Martha Rodger
,
Jay Hill
,
Judy Findlay
,
Joy Yaholkovsky
,
Melanie Grassi
,
Josh Rudolph
,
Matt Wiles
,
Henry Mark
,
Peyton Burkhart
Reviewer:
Edwin L. Carpenter