Winning Favor
DVD Release:
September 18, 2012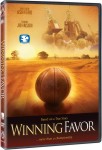 Synopsis
Mathew Ashford ("Days of Our Lives," "90210," "Quantum Leap," Species), Bonnie Johnson (Evan Almighty, Rules of Engagement, The Punisher, Sleeping with the Enemy) and Dallas Mix ("Days of Our Lives," "Law &Order," "ER," "Strong Medicine") star in WINNING FAVOR, an inspirational new family and faith-friendly feature in the tradition of Facing the Giants and The Mighty Macs. While growing up in a small town of 5,000 in rural Iowa, a group of neighborhood friends shoot hoops in driveways and tournaments, imagining that one day they could compete in the state basketball championships. Years later, the boys go on to play at rival high schools, and finally get the chance to live out their dreams. Against all odds, both teams win their respective state division titles, making it the first time in history that a small community achieved such a feat. Unfortunately, there are roadblocks to the trophy that test their judgment and determination. Yet, despite these obstacles, the boys find inspiration in their journey, and learn the importance of friendship, family and faith on the way to achieving their goals.
Dove Review
Here is a story of hope! This inspiring movie is based on a true story. Several young boys love playing basketball together and vow to win a championship in High School one day. The path to that championship is tougher than they would have thought but they learn that truly all things are possible to the one who believes.
As they get to High School, a few of the friends end up in a Class A school with the others remaining in a Class AA team. However, due to hard work and players such as Chris, whose grandmother reminded him to persevere, it seems possible by the senior year for both teams, the Dutch and the Unity Knights, to claim a championship. The sudden death of an important character makes the challenge that much more difficult, but these players define the word "resilient". We are highly recommending this movie for ages twelve up, due to a few sophisticated moments such as some of the team's players committing bad behavior. But overall this is a great motivational movie. We are happy to present it our Dove Seal.