Genesis 7: Episode 4 – To Venus
DVD Release:
November 13, 2012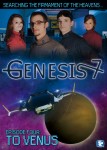 Synopsis
Recovering from burns he received near the sun's surface, Donton gets an opportunity to shine when Genesis 7 ventures To Venus. After a brief detour to Earth to mend the craft and Donton's wounds, the eager lieutenant's aerocapture skills are put to the test when he is required to navigate "Little G," the Genesis 7 lander, to the surface of the desolate, terrestrial planet. Will Donton, Enoch, and Priscilla successfully complete the most challenging leg of their mission to date and collect the necessary samples to transport home to Genesis Command?
Funded by Christian scientists who want to prove that the universe was created by God, the Genesis 7 space program has launched a series of thrilling and perilous adventures the steadfast crew never could have predicted. Now, climb aboard with Captain Enoch Andrews, Lt. Donton Andrews, imaging specialist Priscilla Andrews, and Lt. Abigail Jennings as they strive to bring glory to God in everything they do in this imaginative series told in the tradition of The Magic School Bus. Bonus educational materials include vocabulary and maps from the episode.
Dove Review
The "Genesis 7" series is an adventurous journey into the Heaven that God created. This series combines education and faith into a journey that everyone will enjoy. As two young cadets join their uncle on a space travel of the solar system, they relate a connection of their faith and God's word to the adventure they embark on.
In Episode 4 the space travelers are off to Venus where there is a discussion about creation vs. evolution. They also discuss the place called Hell, what they imagine it to look like and why God created Hell. As in the past episodes the trio combines their travel with facts and faith orientated discussions. The "Genesis 7: Episode 4" DVD is awarded the Dove "Family-Approved" Seal for all ages.
Info
Company:
Bridgestone Multimedia Group