A Time for Miracles
DVD Release:
September 25, 2012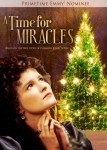 Synopsis
In this remarkable, Emmy®-nominated true story, Elizabeth Bayley Seton (Kate Mulgrew) becomes the first American-born citizen to be declared a saint by the Roman Catholic Church.
A charming woman with a distinguished upbringing, Elizabeth Bayley Seton married into a wealthy family and birthed five beautiful children with her husband, William. But when William lost his fortune and fell deathly ill, she lost her worldly possessions and turned to religion for support. Converting to Catholicism, Elizabeth became the founder of her own school and religious order. Despite being tested along the way, she held fast to her beliefs and was dedicated to a life of generosity and kindness.
Dove Review
"A Time for Miracles" is an adaption of a time in history and featuring Elizabeth Bayley Seton during the 1800s. It is a story of the trials and tribulations that this woman endures. In 1975 one priest names her for sainthood but due to a policy that a person must have proof of 4 miracles Elizabeth is denied. The tale unfolds as the Priest looks for a fourth miracle in her lifetime.
Elizabeth Seton was not only a mother to her own children but many more that came to the school she ran for orphans and other young children. With her faith she made it through many hard times, such as the loss of her precious husband but also the loss of two of her own children to the same disease. But through all of this she became Mother Seton to all in the Catholic Church.
This is an entertaining drama of history that will be enjoyed by the family. Due to some graphic scenes I recommend this DVD be given the Dove "Family -Approved" Seal for ages twelve plus.
Info
Company:
Echo Bridge Home Entertainment
Industry Rating:
Not Rated
Starring:
Kate Mulgrew
,
Jean-Pierre Aumont
,
Rossano Brazzi
,
Robin Clarke
,
Lorne Greene
,
Jen Le Clerc
,
Leonard Mann
,
William Prince
,
Dominic Chianese
,
Michael Higgins
,
Diane Kagen
,
George Murdock
,
Milo O'Shea
,
John Forsythe