Fully Alive
DVD Release:
October 23, 2012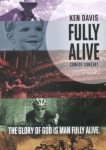 Synopsis
You were born to live fully alive! Yet you may feel like many people who lead lives of quiet desperation. Somewhere along the way the passion that once burned in their soul was smothered. It's time to rekindle the flame.
With his trademark humor and powerful stories, Ken will share his own journey from lethargic resignation to a new life of adventure, spiritual renewal and health.
You will see the snapshot that started it all, share in the three hours of terror that changed Ken forever; and meet a living fossil on a bicycle. You'll laugh and be inspired to live in the power of Christ's resurrection.
Dove Review
Ken Davis knows how to tell a funny story and he does so many times in this wonderful DVD, "Fully Alive". You will roar with laughter when he tells the story about the time he left his keys in the car and his car was stolen. It gets funnier as it goes on, especially when he tells about calling the police and his wife. We won't spoil it for you but you will be splitting your side at this and other funny stories and anecdotes Ken shares. You will also be amazed at the discipline he shares in running every day and the photos of him before he lost his weight.
Ken also shares his faith in God and this wonderful DVD contains wholesome entertainment that is both humorous and revealing about human nature. We are more than pleased to award this DVD our Dove "Family-Approved" Seal for all ages and five Doves, our best rating. Take the time to watch it soon. You won't regret it.
Info
Company:
Crown Entertainment
Industry Rating:
Not Rated
Reviewer:
Edwin L. Carpenter