Fairfield Road
DVD Release:
February 12, 2013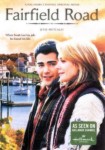 Synopsis
After Noah McManus loses a high-powered political job and his fiancé all in one day, he escapes to the small New England town of Harpswell in Cape Cod. There he falls in love with a bookstore owner as well as the quaint town itself, giving him new purpose and a sense of belonging that he has been missing in life.
Dove Review
Here is a good family film that focuses on a small-town community in which everyone knows everyone else. Noah McManus (Jesse Metcalfe) goes to Cape Cod to retrieve an engagement ring after his fiancé is unfaithful to him. He winds up stuck in the town and he gets to know a new girl that he falls for.
His former girlfriend returns, hoping to win Noah back, but what will he do? This movie features themes of adapting to change and getting to know people. Due to a few sophisticated themes we are recommending this one for ages twelve plus. The movie even features a bit of trivia such as there are three hundred and sixty five steps leading up to the Capital, one step for each day of the year. See this one soon and enjoy the warm home-town feel of the film.
Info
Reviewer:
Edwin L. Carpenter