Hemingway
DVD Release:
December 12, 2012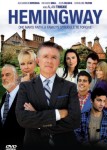 Synopsis
The elderly grandfather and
owner of the huge Hemingway
publishing empire suddenly dies
and the family expects the money
and company to go to his son
Paul (Alan Thicke). However, the
grandfather had a funny sense
of humor and divides the fortune
equally amongst the family…
with a twist. In order to receive
anything, he instructed his trusted
lawyer (Richard Moll), to determine
whether all of the issues in this
long-time feuding family can been
resolved in eight hours, or the
entire company will be donated
to charity. Discover family secrets
and plot twists that will surprise
you, make you laugh, and tug at
your emotions. Ultimately, this
is a faith-based film about
forgiveness and family.
Dove Review
"Hemmingway" is an interesting look at a very dysfunctional family that is part comedy and part drama. When the patriarch of the family dies suddenly his fortune is to go evenly to the entire family if they can settle their differences in a very short time. As they family wrangles with their past problems, they are also chided by the youngest son to put God first in their lives.
This is a touching drama that will keep the viewer's interest as they learn of the past wrongs committed by each family member toward the others. Many families may even see some of their own issues brought out by the siblings and/or parents of the story. This is a God-honoring film and we are pleased to award a Dove Seal to the project.
Content Description
Drugs:
Man wakes on floor after a weekend of heavy drinking; man drinks alcohol in the morning; man drinks from a flask multiple times; It is said a couple met at a bar and she was an alcoholic and did drugs.
Info
Company:
Core Faith Media