Flowers for Fannie
DVD Release:
February 15, 2013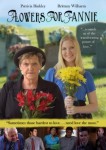 Synopsis
Fannie Fairchild locked up her heart when her beloved George was killed in the Great War. But now she faces her own mortality and realizes that she has no one to maintain her grave with flowers. After a number of failed attempts to hire someone for the job, Fannie finds herself helpless and under the care of Louise, a young woman nothing like Fannie. Will Fannie accept love from this unexpected source or continue the lonely life she's sustained all these many years?
Dove Review
Fannie has been alone for sixty years. She is very much set in her ways and is a grumpy old woman in a small town. Louise is a young woman that lost her parents when she was a senior in High School. The two have many things in common, they both go to the cemetery all the time, Louise is Fannie's lawyer's secretary, and they go to the same church; plus each is lonely in their own way.
This is a unique story about how we treat one another and the importance of love no matter if you are a relative or not. Sometimes helping others can be done by the little things you do. Louise will not give up on Fanny, even though at times Fannie is quite rude to her and others in her life. "Flowers for Fannie" is a charming story about, to quote the Bible, "Do unto others as you would have them do unto you". We award this DVD the Dove "Family-Approved" Seal for all ages.
Info
Company:
MainStreet Productions
Starring:
Pat Binkley
,
Brittany Wilharm
, Robert Baker, Jr. PattiNicole Wheeler,
Jonathan Everett
,
David Chattam
,
Roger Eldridge
,
Danny Atchley
,
Lois Berg
,
Rob Wilds
,
Matt Plunk