Genesis 7: Episode 8 – Saturn: Ringed World
DVD Release:
March 12, 2013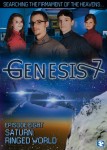 Synopsis
The Genesis 7 crew must rely on their faith in God like never before when their trip to Saturn goes horribly awry. First, a colossal piece of debris clips a starboard wing, sending the ship spinning out of control and on course to crash into the moon Titan. Donton bravely departs in Little G to slow the craft's spin and guide it out of Titan's trajectory, but the adventurous lieutenant must cut loose from the mother ship before it collides with Saturn's atmosphere. To his sister Priscilla's despair, Donton is now hundreds of thousands of miles off the radar. Will the resourceful pilot make his way back to the craft, or is he forever lost in space?
An entertaining series that follows a trio of space explorers through a year-long journey to fuel their program's mission of bringing glory to God beyond the firmament of the heavens, Genesis 7 is produced by the Christian filmmakers at Iachod Visuals, the team behind the documentaries The Heavens Declare, The Heavens Declare 2: Beyond the Milky Way, and The Young Sun. Bonus educational materials include vocabulary and maps related to Saturn.
Dove Review
The "Genesis 7" series is an adventurous journey into the Heaven that God created. This series combines education and faith into a journey that everyone will enjoy. As two young cadets join their uncle on a space travel of the solar system, they relate a connection of their faith and God's word to each adventure they embark on.
Enoch, Donton, and Priscilla in episode eight are on their way to Saturn. But because of the many rings and debris they have their work cut out for them. Their travel is not an easy one this time as the ship is damaged by debris which makes Captain Enoch feeling responsible. As the trio decide to use little G to help with repairs, Donton gets separated from the main ship, which causes Priscilla to fear that they may have lost her brother.
The emotional fear that the family has on this space adventure demands they respond with their faith and with prayer which helps them through this tough time. It also teaches the viewer the importance of telling those we love that we love them no matter their faults.
We award episode eight the Dove "Family-Approved" Seal for all ages.
Info
Company:
Bridgestone Multimedia Group