In the Company of God (Devotional)
Book Release:
January 1, 2011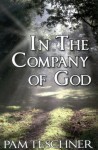 Synopsis
We were made to be in company with the Eternal God, and He longs for our companionship. Through vivid word pictures and profound insights, this book with open a door into holy intimacy with God Himself. Pam Teschner writes from the joys and sorrows of the human heart and the unwavering faithfulness of God. From chapter to chapter, you will find Him in places of great beauty and places of pain. As you walk with Him trough these pages and pray the passages from the Psalms, He will refresh your spirit and stir your soul to greater depths of longing.
Dove Review
When a thoughtful, contemplative person is also a gifted writer, the combination produces a quality devotional such as "In the Company of God." The book will inspire many readers to respond to God's invitation for companionship. This gem is a beautiful walk with the author as she seeks to bask in the presence of God. Teschner shares her hurts and heartaches without focusing on herself, while also expressing wonder at God's desire for her.
Teschner's honest appraisal of her sinful nature is one the reader can immediately recognize in him/herself: "My base nature is against God and stinks of death. It steps around the filth and grime of humanity and seeks praise to assuage its insecurities. My nature rises in anger when my rights are not served and is defensive when accused. Its tongue is sharp and quick to lash out in criticism. It stands on Smug Hill above those with less."
Then, in sharp contrast, she tells of the Father's love: "…the heart of Jehovah yearns for His child with great compassion. He embraces me with gentle grace and looks upon me with tender affection. He sets His love and compassion upon my soul as a crown." Following this brief devotional is the Psalm that inspired her to write it: "Praise the LORD, O my soul, and forget not all his benefits – Who forgives all your sins and heals all your diseases, who redeems your life from the pit and crowns you with love and compassion…" (Psalm 103: 1-5) We, with Teschner, cannot resist such love!
This book—with its 31 meditations—is worthy of a careful reading and re-reading. We are pleased to award "In the Company of God" our Dove "Family-Approved" Seal for all ages although very young readers may not appreciate the devotional as much as adults will.
Info
Company:
ScratchPaperMayFly