The Preacher and the Gun
DVD Release:
July 9, 2013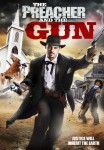 Synopsis
After being threatened by the towns banker Stephen Bancroft is faced with only two options, run and find shelter for his family or stay and face the challenges before him.
Dove Review
This is an inspiring movie which shows faith triumphing over darkness! Dennis Cole plays the likable Rev. Stephen Bancroft, a minister that makes his living by making signs. He and his wife Sarah, played by Wendy Cole, are struggling to pay their house payment to the local businessman who owns the town, a man named Prescott. Prescott threatens Bancroft and promotes fear in the town folk.
Despite his moments of doubt, Stephen Bancroft perseveres and stands up to Prescott, eventually inspiring the town folk to do the same. He preaches a sermon about David and Goliath and eventually faces his own Goliath. We are pleased to award this movie our "Faith-Friendly" Seal for ages twelve plus. Give "The Preacher and the Gun" a watch soon!
Info
Industry Rating:
Not Rated
Reviewer:
Edwin L. Carpenter