Genesis 7: Episode 9 – The Icy World of Uranus
DVD Release:
April 9, 2013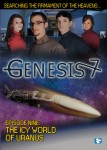 Synopsis
After launching probes through Saturn's incredible winds and affirming that the seventh planet has no core, the Genesis 7 crew sets it course on The Icy World of Uranus. As they struggle to get some shut-eye, Enoch and Priscilla experience homesickness, and Priscilla and Donton share a game of chess and sandwiches beamed into space by the handy Instameal machine at Genesis Command. As the spaceship approaches the ice giant planet, Donton dreams that he accidentally transfers Capt. Abigail Jennings on board the ship with the Instameal, much to the surprise of the love-struck Enoch, who is toying with asking Abigail to marry him after the mission. Meanwhile, Donton descends in Little G to collect images and data of Uranus, and the crew sits back for their long journey to Neptune.
Dove Review
The "Genesis 7" series is an adventurous journey into the Heaven that God created. This series combines education and faith into a journey that everyone will enjoy. As two young cadets join their uncle on a space travel of the solar system, they relate a connection of their faith and God's word to each adventure they embark on.
The trio is on their way to Uranus in episode nine. In this adventure Donton, Enoch and Priscilla have thoughts of home as they investigate the facts about this planet and what God has made. This episode is without mishap and then they are off to the next plant Neptune which makes them the first team to travel that far in space. We award episode nine the Dove "Family-Approved" Seal for all ages.
Info
Company:
Bridgestone Multimedia Group