21 and Over
Theatrical Release:
March 1, 2013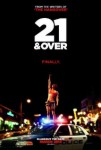 Synopsis
Straight-A college student Jeff Chang has always done what's expected of him. But when his two best friends Casey and Miller surprise him with a visit for his 21st birthday, he decides to do the unexpected for a change, even though his critical medical school interview is early the next morning. What was supposed to be one beer becomes one night of chaos, over indulgence and utter debauchery in this outrageous comedy.
Skylar Astin (Pitch Perfect), Miles Teller (Footloose) and Justin Chon (Twilight) star in this movie about celebrating a milestone so hard that you don't remember it at all. Be sure to blackout the date – 21 & Over opens in theaters on March 1, 2013.
Dove Review
Effective January 1st, 2009, The Dove Foundation Review Team has ceased reviewing all NC-17 rated movies and certain extraordinarily explicit R-rated films. This decision was reached due to the fact that Dove reviewers are parents or grandparents with conservative values. As such, we feel that we can no longer expose these dedicated and caring people to movies that contain distasteful and appalling stories that are focused on graphic horror and violence, and/or gratuitous depictions of explicit sex and nudity. "21 and Over" is considered to be such a film. Our report is therefore limited to the business information (title, rating, distributor, producer, director, actors, etc), synopsis, and the content chart.
Info
Company:
Relativity Media
Writer:
Jon Lucas & Scott Moore
Director:
Jon Lucas & Scott Moore