Olympus Has Fallen
Theatrical Release:
March 22, 2013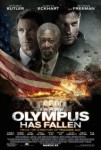 Synopsis
When the White House (Secret Service Code: "Olympus") is captured by a terrorist mastermind and the President is kidnapped, disgraced former Presidential guard Mike Banning finds himself trapped within the building. As our national security team scrambles to respond, they are forced to rely on Banning¹s inside knowledge to help retake the White House, save the President and avert an even bigger disaster. Antoine Fuqua (Training Day) directs an all-star cast featuring Gerard Butler, Morgan Freeman, Aaron Eckhart, Angela Bassett, Melissa Leo, Ashley Judd, and Rick Yune.
Dove Review
"Olympus Has Fallen" is a variation of "Die Hard" with Gerard Butler substituting for Bruce Willis. This time the villain is a renegade North Korean terrorist with a grudge against the USA for "murdering" his wife. He and a team of commandos attack the White House and capture its inhabitants. The hero, a former Presidential body guard, Mike Banning (Butler) has to single-handedly save the day by rescuing the president, his son and the entire USA. Spoiler alert — He accomplishes exactly that with 3 seconds to spare.
There is plenty of drama, violence, and action to keep the heart beating fast. But the story itself is so far fetched that it's hard to get involved without an occasional eye-roll. Obviously, this movie was never intended to appeal to the family audience, and for that it succeeds. So it comes as no surprise that Dove is unable to reward this R-rated blood-fest its Family Approved Seal.
Content Description
Violence:
machine gun fire killing mobs of people; RPGs firing on people, planes and buildings; knife and karate fighting; torture; cars, trucks and planes crash, explosions, fires
Violence:
machine gun fire killing mobs of people; RPGs firing on people, planes and buildings; knife and karate fighting; torture; cars, trucks and planes crash, explosions, fires
Info
Writer:
Creighton Rothenberger & Katrin Benedikt