Homefront
DVD Release:
July 2, 2013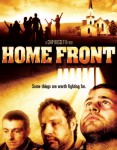 Synopsis
"Homefront" is touching and emotional look at three very different soldiers, held hostage in a small, dank prison cell, moved to share their last memories of home with one another as their lives hand in the balance.
Private Aaron Phillips is a young, green soldier on his first tour of duty, when he is taken hostage by the enemy. Lt. Steven Hill is a soldier in the Reserves that has been called up to active duty, when his unit if ambushed. Sgt. Bryan Monroe is a veteran soldier on his fourth and final tour of duty when he falls into enemy hands. Who will survive? Who will be changed forever?
Dove Review
This movie is about redemption! It focuses on three soldiers, a private, a lieutenant, and a sergeant. Lt. Steven Hill, a believer who winds up witnessing to Sgt. Bryan Monroe about Christ and how that life is nothing without faith. We see the soldiers, including young Private Arron Phillps, go through difficult times including torture and beating. But because of Lt. Hill hope is kept alive.
There are a few scenes involving the soldiers being slapped and hit but they are not gratuitous and because of the redemptive message we are pleased to award this film our Family Approved Seal for ages twelve plus. This one will stir up your faith!
Info
Company:
Bridgestone Multimedia Group
Industry Rating:
Not Rated
Reviewer:
Edwin L. Carpenter