Genesis 7: Episode 10 – Blue Neptune
DVD Release:
May 14, 2013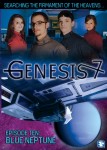 Synopsis
Priscilla struggles to grasp the truth of God's love and the beauty of Blue Neptune as the Genesis 7 crew sets a record for the farthest space mission and a trajectory for the planet's largest moon, Triton. As the daring Donton drills into the frozen wasteland for a sample of the unstable surface, a sudden fissure sends the LG7 careening into a snowbank. Enoch space walks a cable to the lander for yet another rescue, the series of which Donton likens to "a never-ending game of cosmic dodgeball."
Dove Review
The "Genesis 7" series is an adventurous journey into the Heaven that God created. This series combines education and faith into a journey that everyone will enjoy. As two young cadets join their uncle on a space travel of the solar system, they relate a connection of their faith and God's word to each adventure they embark on.
The space travels are off to see the planet of Neptune in episode 10.There are some interesting facts discussed regarding the planets history. But on this adventure there is also a discussion regarding the Power of God's love for us, Jesus dying on the cross for us and the importance of prayer. Enoch makes an very wise statement about grace through the Bible, prayer, preaching and teaching. Meanwhile, back at mission control, the mole is discovered and Abigail lets the crew on the Genesis know what they have discovered. We award episode ten the Dove "Family-Approved" Seal for all ages.
Info
Company:
Bridgestone Multimedia Group