How to Answer the Fool (DVD and Study Guide)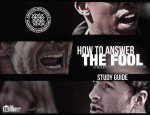 Synopsis
Not since the late Dr. Greg Bahnsen debated Dr. Gordon Stein in The Great Debate: Does God Exist?, have we really seen presuppositional apologetics in action. And few have taken it into culture to show that there are only two positions, Christ…or absurdity.
Produced as a cinematic film, "How to Answer the Fool" was adapted for use in small group and Sunday School classes, making it a useful tool for individual or group study. With an eye-opening, cinematic message that deliberately and strategically teaches you how to defend the Faith; answering the call of Scripture to 'be ready in season and out of season' in order that we may '…always being prepared to make a defense to anyone who asks you for a reason for the hope that is in [us].'
Dove Review
Sye Ten Bruggencate knocks it out of the park in this inspirational DVD which shows him silencing unbelievers as he acknowledges that all wisdom and knowledge begins with the fear of the Lord and God's word as the only true authority. This DVD would make an excellent evangelism tool or even a terrific Bible study in how to witness to non-believers.
Sye actually deals with those who say they are believers, even Christians, but they do not claim Scripture, God's word, as their authority. Sye clearly tells them that they are their own authority and deciding themselves what truth is or is not. He debates an atheist and gets more than one person upset as he refuses to back down from God's word being the beginning of wisdom and knowledge. Included in this set is a study guide which features sections on the Greatness of God, The Foolishness of Man, Ultimate Authority, Proof that God Exists, Don't Be a Jerk, and Objections Answered. Apologetics are a key, defending one's faith, and a discussion section is also part of this nicely written study guide.
Deists and Theists are also looked at along with people's pre-suppositions in this documentary. Sye encourages people including a young man named Franco to repent. This is a wonderful tool and an inspiring and remarkable DVD to watch if you want to learn more about answering the fool who boasts he does not believe in God. This one has earned five Doves from us. This incredible DVD is one that you might wear out. We are awarding it the Dove Seal for ages twelve plus.
Info
Director:
David "The Chocolate Knox" Shannon
Reviewer:
Edwin L. Carpenter